FIRE BAN - LIFTED - September 21, 2020
---
*ELECTION 2020*
Watch here for all things Resort Village municipal election related!
**ELECTION RESULTS**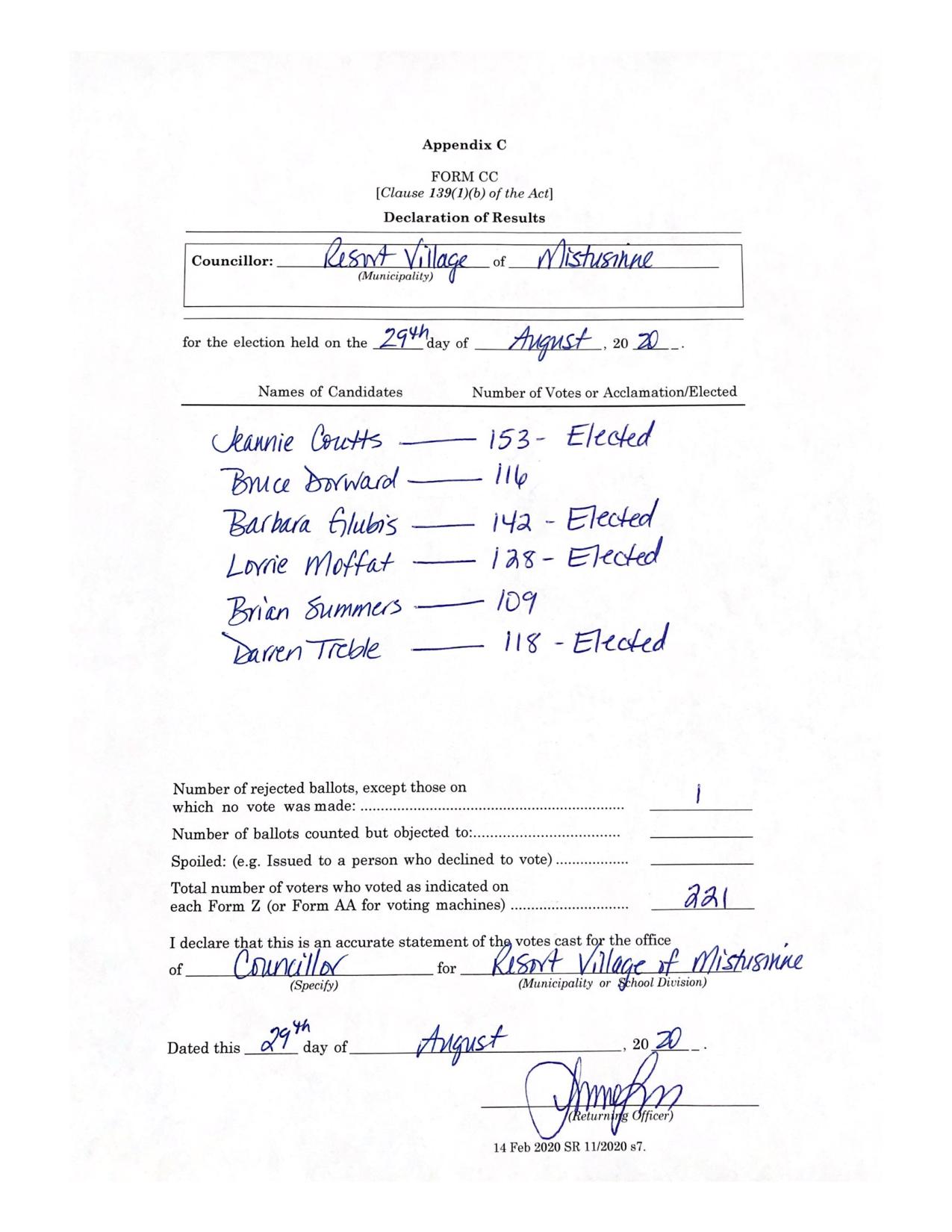 August 4, 2020 - Election memo with candidate bio's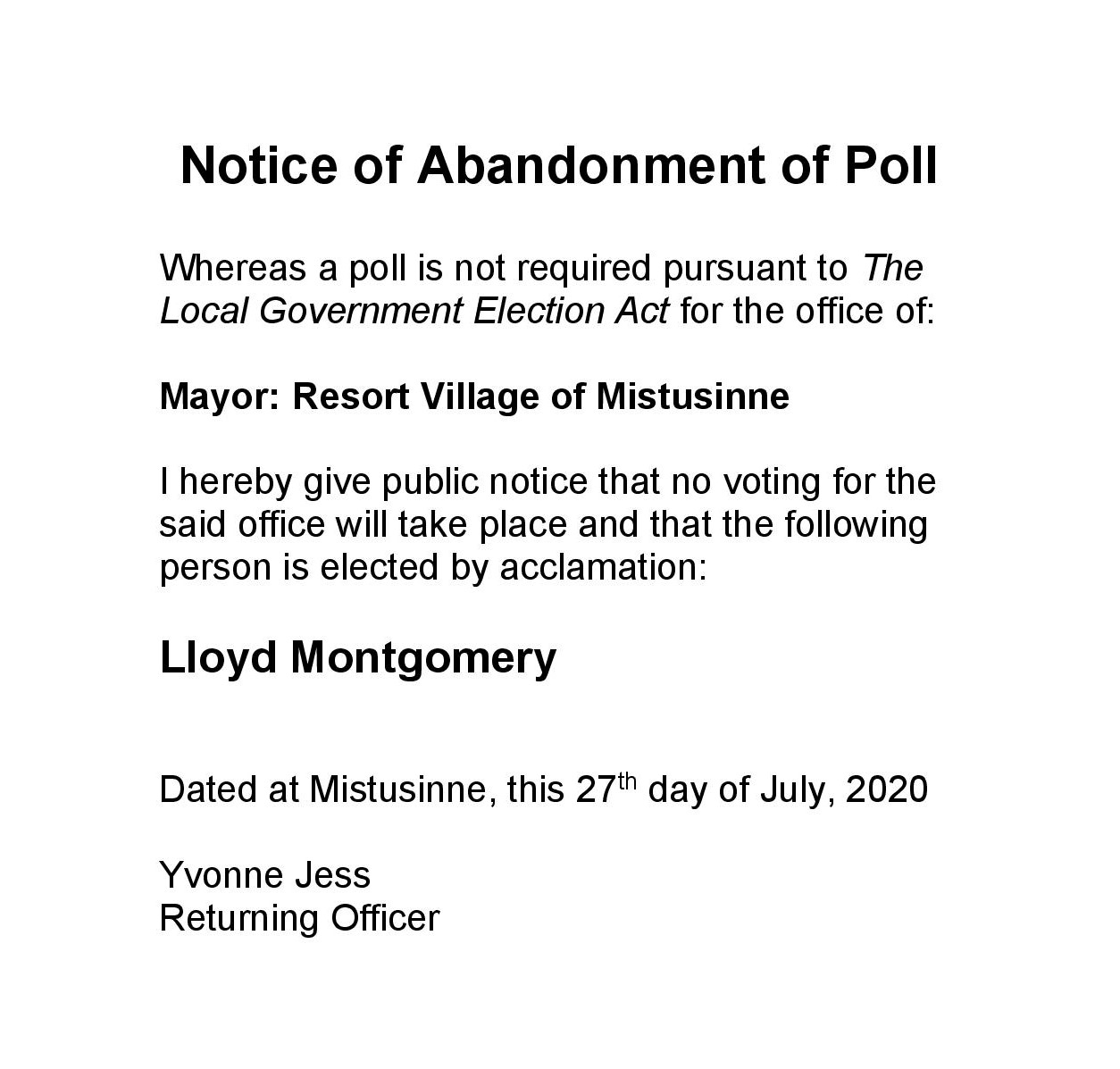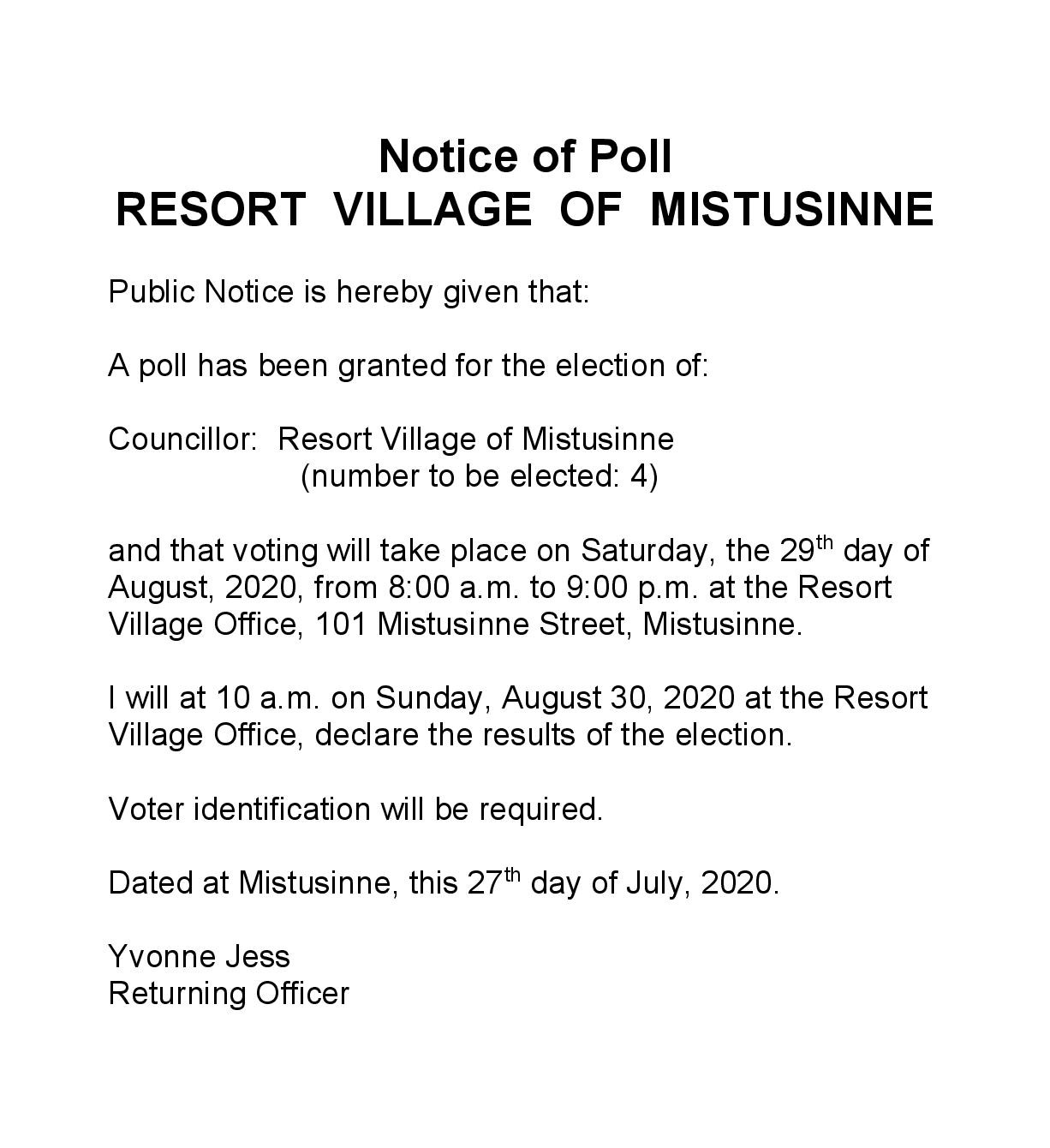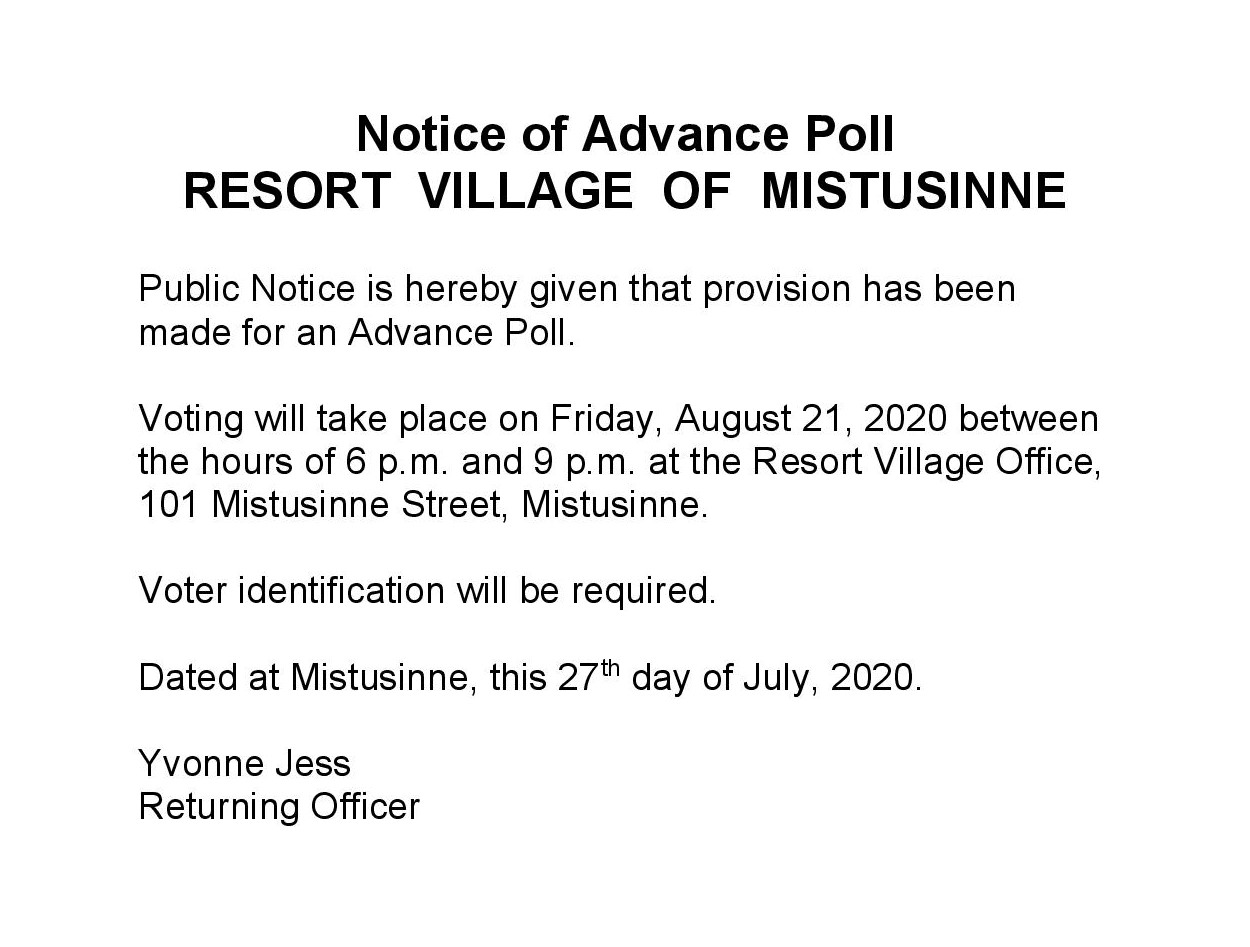 Municipalities of Saskatchewan (formerly known as SUMA), the association that represents Saskatchewan's hometowns, including the Resort Village of Mistusinne, offerred a FREE virtual session on July 14 to anyone interested in learning more about being on municipal council in a resort village. Hear what the role of council is, what your responsibilities are as a councillor, and more. The recording is available here - https://www.youtube.com/watch?v=2-LraD1QtFk
Nomination Day - Saturday, July 25, 2020 from 11 a.m. - 2 p.m.
Deadline to register for Mail-In Ballots - Thursday, July 30, 2020
Advance Poll - Friday, August 21, 2020 from 6 - 9 p.m.
Election Day - Saturday, August 29, 2020 - poll open from 8 a.m. - 9 p.m.
Election Newsletter - July 6, 2020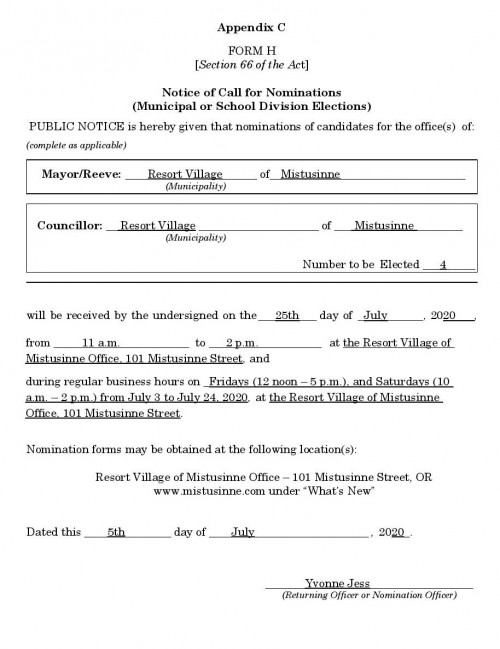 Nomination Form , Public Disclosure Statement, AND Memo to complete nomination papers
---
Due to the COVID-19 situation the Annual Public Meeting, traditionally held the Saturday of the May longweekend, has been postponed.
---
Golf Course: With the "Re-Open Saskatchewan Plan" the golf course is allowed to open May 15, 2020. HOWEVER, the Outdoor Individual Recreational Guidelines outlined in the Province's plan must be followed. Council will be discussing this further at their May 16, 2020 meeting, but for now this will include the following "rules":
Groups over 10 are NOT permitted on the golf course
Physical distancing MUST be maintained at all times; with a minimum of two meters between individuals
Flags will remain in the hole and the cup will be elevated so the ball does not drop in the hole. Play is concluded when the ball contacts the cup. DO NOT TOUCH THE FLAG STICK.
Don't tee off until the people ahead of you are clear of the green
Payments are to be made in the golf drop box outside of the Village Office, or by etransfer (see box above for info on etransfers)
There will be NO scorecards, or pencils available
The washroom at the Maintenance Building will be CLOSED
---
Message From Council - April 8, 2020
With the spring season upon us, and the unprecedented times we are living in, we would like to wish everyone good health and safety.
Council has made a couple of changes to help protect our citizens.
First, the playground is closed.
Secondly, the golf course, by provincial mandate, must remain closed.
Please respect these restrictions.
The public health authority has also recommended that if we do not have to travel that we stay home.
We have those in our village that have chosen to self isolate here, many due to being at increased risk. We all should respect this choice and limit any possibility of infection.
It is normal for each of us, when seeing friends that we perhaps have not been in contact with for an extended period of time, to want to visit and catch up. Please do not visit in groups or have close contact with anyone outside of those who live in the same household.
Wherever you are during this pandemic please follow the guidelines set out by the health authority.
If you show symptoms or have been out of the country, it is mandatory to isolate in your home for a period of at least 14 days.
For others, wash your hands often and practice social distancing.
It is councils wish that all remain healthy through this pandemic. Saskatchewan is the best place to be, both at times like this, and at all times. Please care for yourself and others.
If there are any other changes that affect our village, we will continue to inform you.
Mayor and Council of Resort Village of Mistusinne
---
March 20, 2020 -

The Resort Village Office is CLOSED to the public effective immediately as a preventative measure to ensure the continued health and safety of the entire community.
Business can be conducted by calling or emailing the Village Office. Payments can be made online (PCCU, etransfer), by mail, or in the golf fees drop slot on the outside of the building. Council will be reassessing as the situation continues to develop. Thank you for your cooperate!
Office phone: 306-854-4637
email: mistusinne@sasktel.net
---
Resort Village of Mistusinne - recipient of the 2019
"Regional Cooperation"

Saskatchewan Municipal Award
The Resort Village of Mistusinne was recognized at the SUMA Convention, February 4, 2020 as a recipient of the "Regional Cooperation" Saskatchewan Municipal Award. Mayor Lloyd Montgomery and Administrator Yvonne Jess were in attendance to accept this award.
The Regional Cooperation award was for our participation in the Regional Asset Management and Group Learning project, along with the Villages of Broderick, Conquest, Elbow, Glenside, Kenaston, Loreburn, Strongfield, and Beechy, the Towns of Central Butte, Dundurn, and Hanley, and the R.M.'s of Loreburn and Fertile Valley. As a group we developed a regional cooperation framework to provide each municipal council with a plan to forecast asset replacement investments, to better understand revenue sources and suitability, and to communicate more effectively with community members around the state of municipal assets.
---
IMPORTANT NOTICE REGARDING AGGRESSIVE COYOTE PAIR - September 6, 2019
The Conservation Officer who is working out of Douglas Park has just informed the Resort Village of Mistusinne that they will be closing the Trans Canada Trail between Mistusinne and the Park campground due to the presence of a mated pair of territorial Coyotes that appear to be protecting their den. There will be signs posted at both gates but the Coyotes appear to be in the area around the first bluff of trees upon entering the park from Mistusinne.
There were two instances last weekend of Coyotes being aggressive towards dogs, one on the trail and one on the beach in the Park.
Please avoid the area, especially with dogs, for the next while.
---
Canada Day 2019! – (submitted by Carol Dorward, chairperson)
The parade was led by RCMP Constable Beriault, Piper Brett Stinson, Drummer, Dillon Stinson, followed by decorated bicycles, quads, golf carts, floats & pets on leash. A special thanks to Moose Jaw Shrine Club for bringing their train to the parade.
Following the parade everyone moved to the Gathering Area to participate in games, face painting and cupcake decorating for the children while parents and grandparents cheered them on. Everyone enjoyed the barbecue and socializing. Musical entertainment was provided by the McIntyre Sisters, who also led us in the singing of our National Anthem. Thanks to Mayor Montgomery for being M.C.
As Chairperson, I would like to thank all the volunteers who helped to make this year's Canada Day Celebrations a great success. Special mention goes to committee members, Ronelda Fortner, Leigh McIntyre, Betty Ann Erickson, Dana Stinson, Patricia Carey, Hanne Caleval, Linda Reis, Paulette & Ken Arcand & Bruce Dorward. Appreciation is also extended to the Elbow Hotel & Bar for ice cream bars, Louise Martineau/Quick Printing for posters & signs, Grant McIntyre for the sound system & our Maintenance Staff for help in setting up & taking down in the Gathering Area.
Mark your calendar for Canada Day, Wednesday, July 1st, 2020!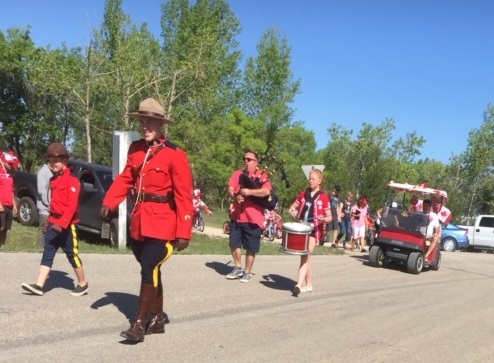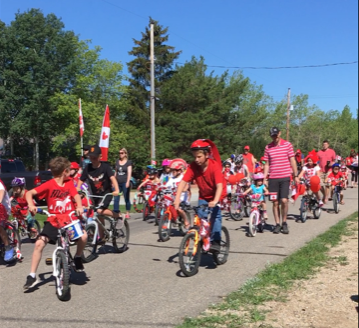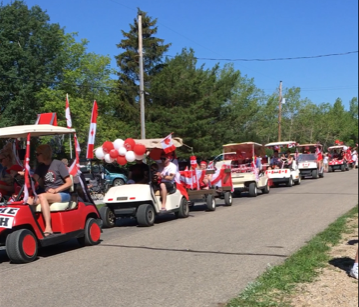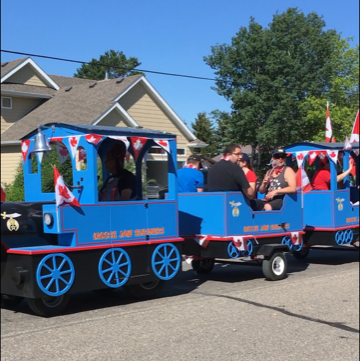 Lake Diefenbaker Task Force Against Aquatic Invasive Mussels
Joanne Brochu, chair of the Lake Diefenbaker Task Force Against Aquatic Invasive Mussels spoke at the Annual Meeting on May 19, 2018 about why we need our own plan to protect Lake Diefenbaker including inspections, decontamination, and a citizens' patrol. Below, you'll find a document that outlines this committees action plan, as well as two sample letters we encourage everyone to send to Premier Moe and the Minister of Environment, Dustin Duncan, along with your MLA.
Protect Lake Diefenbaker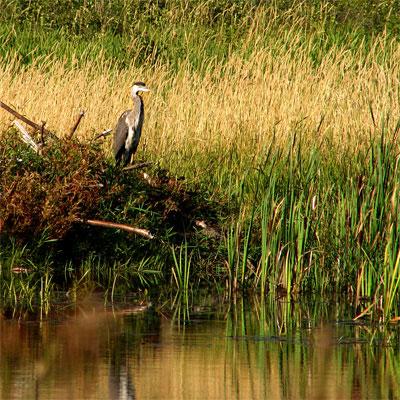 sample letter - Minister of Environment